Each December, we await the rush of holiday greeting cards. From friends, family, neighbors, and even the local business owner, we receive holiday photo cards of all sorts and designs. As a photo card printer, we take particular notice of the quality– especially when it comes to the paper stock.
But how are you to know how thick the card will be if you order it online? Unless you are familiar with paper weights, ordering Christmas photo cards online can be a tricky business. Don't worry though, Studio Style has you covered. Check out some Christmas photo card paper comparisons below.
Cardstock Photo Cards
Our Christmas photo cards (flat, folded, and tri-fold) are printed on bright white 12 pt. cardstock. How thick is 12 pt. cardstock? About as thick as the average greeting card. Thick enough that you can clip it in a clever Christmas card hanging display, stick in on the Christmas tree, or mail to friends and family (with the included envelopes!). Pssst… Head on over to Pinterest for some creative Christmas card display ideas.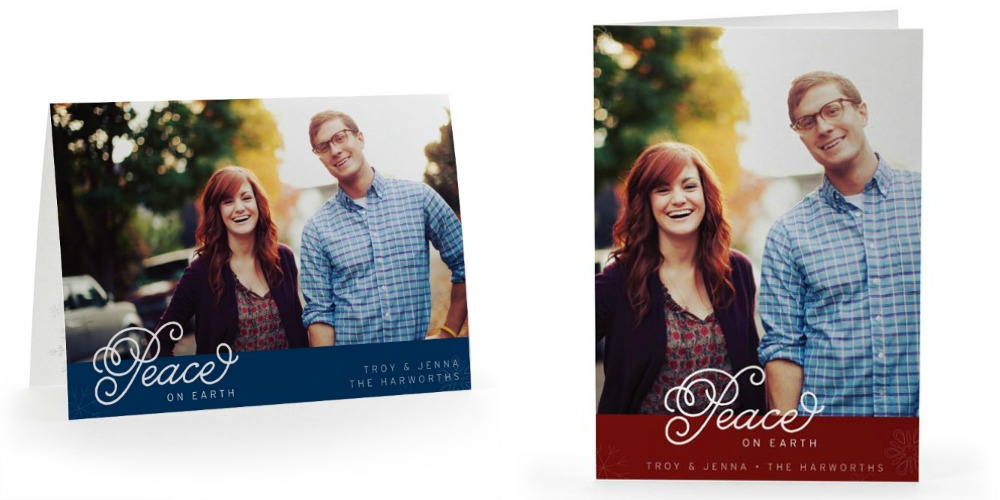 Holiday Photo Insert Cards
For 4″ x 6″ Photos – Traditional paper photo frame cards, also called photo slip in cards or photo holder cards—no glue or tape needed!
Slide your photo into one of our archival photo insert cards and make a personalized greeting that will last. Photo insert greeting cards are great for sharing photos for milestones and holidays, as well as for photographers looking for a professional photo frame card to showcase their photographs. Choose from our exclusive collection of Simplicity blank cards for photographs or our foil stamped Christmas photo holder cards.folded, and tri-fold) are printed on bright white 12 pt. cardstock.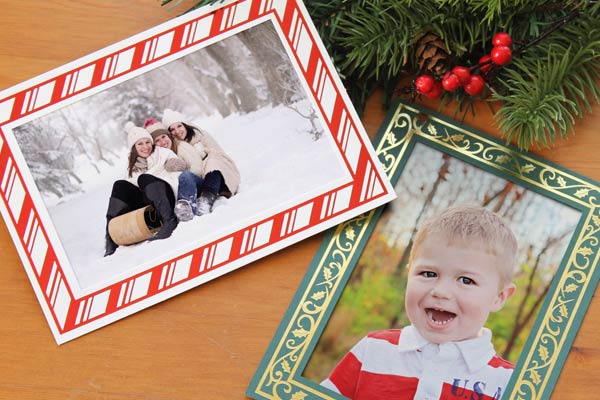 Christmas Photo Folders – Printed or Foil Stamped
Our holiday-themed photo holders are perfect for packaging your holiday event photography at breakfast with Santa outings and office holiday parties, but they also make nice holiday cards for your 4×6 or 5×7 prints! Choose from festive printed designs like our  Jolly Santa, Peppermint Candy, or Christmas Tree – and many more!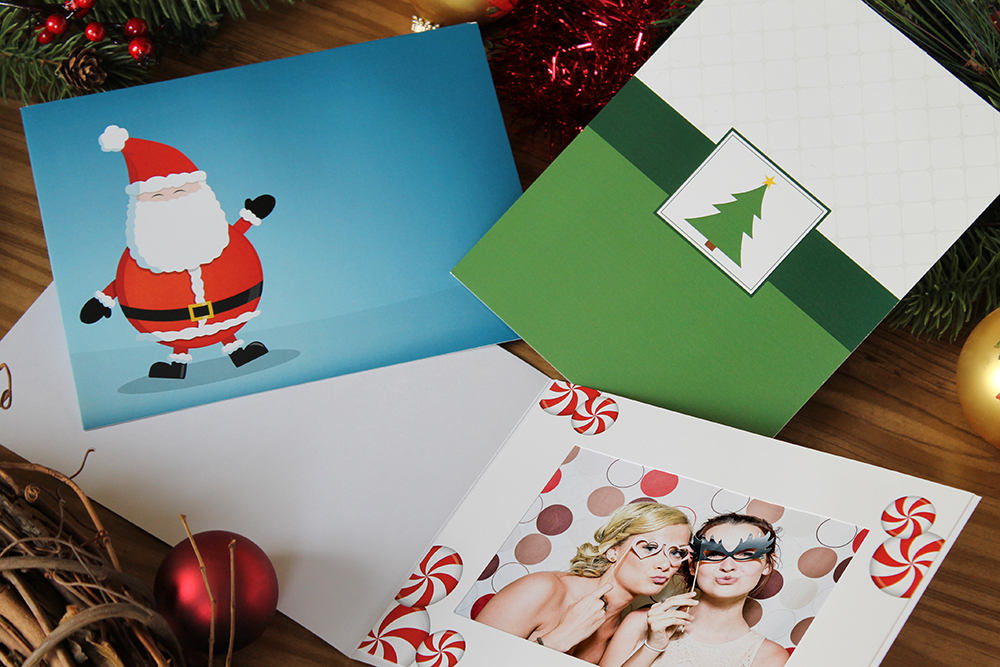 If you prefer the foil stamped designs, take a look at our quick ship styles like the Red Santa Claus, Silver Snowflakes  and Green Holly.  Our holiday event photo folders are perfect for any Christmas or winter-themed special occasion. Whether you're planning a company Christmas party, coordinating a customer appreciation banquet, or want to send personalized holiday photo cards to friends and family, our collection of festive Christmas photo folders and photo cards are sure to help spread some cheer.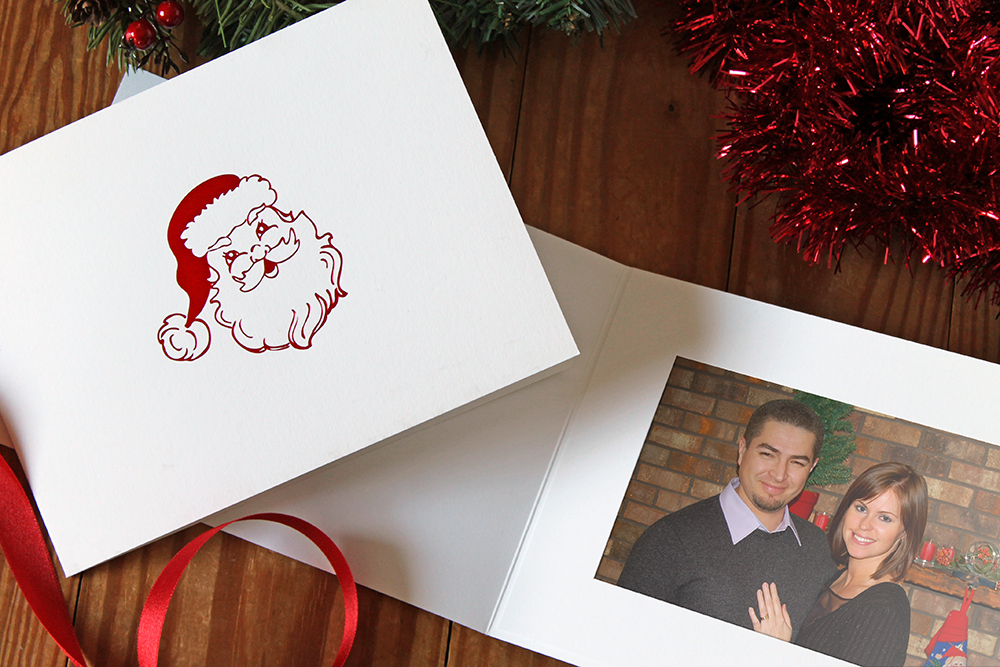 Über-thick, 48 pt. ColorThick Christmas Cards
Our 12 pt. cardstock printed photo cards are great for anyone's Christmas photo greetings, but our ColorThick Christmas photo cards are for those who really mean business. Coming in at a whopping 48 pt. thickness, these cards won't bend or curl. Your photo and greeting is printed on bright white paper stock, with a colorful, coordinating strip sandwiched in between.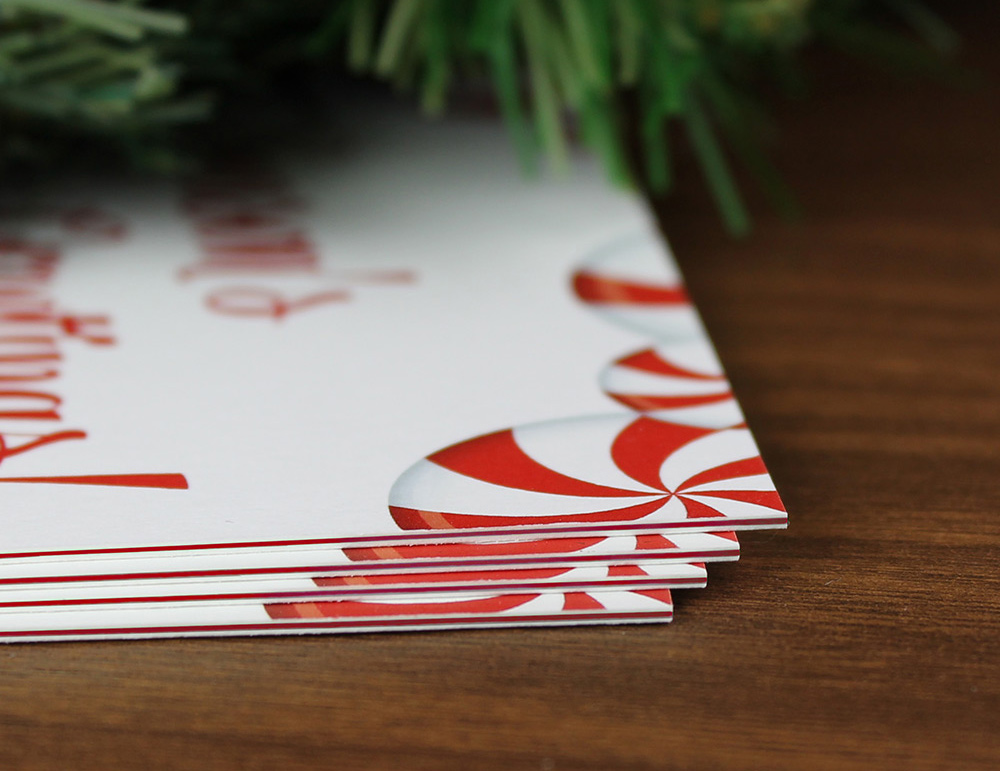 Does paper thickness matter to you, or is the photo card design more important? We'd love to hear your thoughts! Leave us a comment below, or drop us a note on our Facebook page.