Having a photo booth set up at your venue brings a fun, interactive experience to events and celebrations of all shapes and sizes. From weddings, birthday parties, bar mitzvahs and fundraisers to corporate events, trade shows, festivals and conventions, the modern photo booth entertains guests, captures memories, and provides marketing and branding engagement opportunities for businesses.
At the 2016 WPPI Expo in Las Vegas, Studio Style had a chance to meet up with Ted Llamas, owner of Emoji Photo Box — the Premier Photo Booth Rental Company serving Las Vegas and Southern California.  Ted shared his insights into the events industry, what it's like to be a photo booth owner, and why photo booths are an essential part of every successful event. "I can't imagine a big event without a photo booth.  There is so much value to having one," says Ted.
Top 10 Reasons to Have a Photo Booth at Your Event:
Entertainment value: The novelty of a photo booth is something guests won't soon forget, and their reactions will prove it. Ted loves hearing his customers remark, "You guys are awesome!" and "Your photo booth is so much fun!"  But what really puts a smile on his face was when a party-goer says, "Man, thank God you were here.  You really made the party!"
Break the Ice: A photo booth gives guests a chance to let loose, have a ton of fun and be themselves.  It's a great icebreaker activity for guests who may not know one another, and it allows for easy mingling and networking at business events.
Instant Party Favors: Everyone gets to take home at least one (in most cases, many) personalized party favors. If you're on a budget, skip traditional party favors and let the photos serve as a keepsake. Plus, Studio Style can create custom photo folders to protect your printed event pictures! Send guests home with an elegant photo souvenir that matches your event's theme.  No need to wait for the photographer to edit the images from the event! With on-site printing, your guests can have hard copies for themselves within seconds.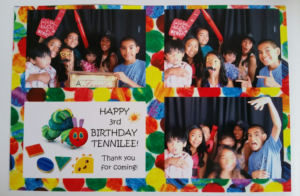 Fun for All Ages – Young or old, anyone can enjoy a photo booth. The fun themed events are always the birthday parties, according to Ted. "We've had a lot of great themes, but one that stands out was a little girl's 3rd birthday party with The Very Hungry Caterpillar theme. We were able to make the 'standby' screen look just like the book, include the hungry caterpillar in the layout and have some props to go along with the theme.  The little girl's face was priceless –  and to hear her saying, "cat-piller" every time a photo printed out, was just precious.
Raise Awareness: One of the most memorable events Ted has serviced was A Walk for Baby Lukey.  The event was a 5K walk/run to raise awareness for Dandy Walker Syndrome.  "A good friend of my cousin lost their infant son, Lucas to DWS. Although the loss of their child was devastating, they planned a wonderful memorial event for their son to raise awareness. The photo booth was placed near the finish line and everyone stopped by to take their silly pictures.  It was a nice touch that played well with their theme of having fun and keeping it light hearted."
Quick Prints for Everyone– "I think printing on-site is the standard and has always been.  That is the staple of the photo booth," says Ted. "People who know what a photo booth is will expect a printout, and those who aren't familiar are blown away when they get a print in 10-12 seconds!" You don't have to wait for a professional photographer to touch up and edit the images before sharing them with guests. Guests can grab them and go, and you'll often be able to access your images online as well.
"I'm a big advocate for reprints for when a group of 4 or more enter the booth.  I reprint enough copies for that group, which keeps everyone happy. I have been to a couple of weddings where I've taken a big group shot with family members I rarely ever see, and the photo booth operator only allowed two strips for our group of 8.  As a photo booth owner, I was sad to see this happen."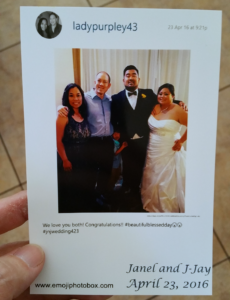 Online + Social Media Sharing – This area has grown over the last few years and it's only going to get better.  The software available today allows photo booth goers to upload their pictures to Facebook or email themselves right on the booth's touchscreen, or on a separate iPad kiosk.
There are even a couple of software companies that have designed a way to create a whole subcategory of photo booths, with a "Hashtag Printer Station."  This is a separate unit comprised of a tablet, software and a printer enclosed in a nice looking box. It allows attendees to print out their own pictures from the event that they've already uploaded on Instagram using the specific hashtag of the host (bride/groom, company, etc) wants them to use.  Now the print isn't your normal 4×6 photo you pick up at Walgreens.  This is a 4×6 (vertical) that looks exactly like your Instagram page, with your name, date, and even has the comments you made.  You can customize this by adding the (bride/groom info/ company info, etc) and your own information like a web address.
Customization: From themed backdrops and green screens to custom props and background templates, there are lots of ways to customize a photo booth experience for any type of event.  "For the event planners looking for a photo booth, all photo booths are not created equal.  Cheaper isn't always better.  Do some research to find a company that can fulfill your needs.  There are a lot of great photo booth rental companies out there, Emoji Photo Box is just one of them," says Ted.
Survey Your Guests: Most photo booth software can be customized to include a quick pop-up survey for attendees to complete before their session can start. The questionnaire can ask the guests whatever the host or business wants to know, and shows up right on the photo booth screen. It's a great way to capture leads or gather important business data from current and potential customers.
Increase Brand Engagement: Photo booths work well for business events when a company or organization is trying to grow their social media presence.  Host an event and encourage everyone to take pictures and upload them to Facebook, Twitter, or Instagram using a specific hashtag.  When consumers have fun and get engaged with a brand's photo booth, they also leave with a cool souvenir that has the company's brand all over it. For businesses, it's a no-brainer to have a photo booth.  Not only does it get your guests, employees, and customers to interact during the event, but it also builds your brand exponentially.  Ask your guests to tag themselves in the photos on your company Facebook page, or even hashtag your company's brand and event info on Instagram!
More about Ted and Emoji Photo Box:
How did you get started in the photo booth industry?  What do you love most about it?
I always knew I wanted to own my own business, but never really pinned down what I wanted to do.  One day I was at a CVS waiting for my infant son's medication and was flipping through a small business magazine.  It was there that I found an ad for owning a photo booth.
After doing this for 4 years, I still love how the photo booth adds life to the party!  Seeing people rush to the photo booth, seeing all kinds of funny faces and introducing the photo booth to those who have never experienced it — (there are always some first timers at every event)– makes me smile.
Tell us about Emoji Photo Box – what sets you apart from other photo booth rentals? 
At Emoji Photo Box, we work as a team to cover all of the business aspects that come with owning a photo booth.  Many companies lack in one area or another.  I truly believe we that we prosper in customer service, communication, social media and staying up to date on new technologies.
Any sage advice for prospective photo booth owners to grow and market their business?
Social media is a must, but high tech doesn't beat high touch.  Get your booth (and your personality) out there.  Do a free event.  All events you service with your booth can create an opportunity to get you booked on another paid event.
Anything else you'd like to say about photo booths and their impact on the events industry?
Photo booths aren't going anywhere.  They are just as much a business branding tool as they are a form of entertainment for your guests.
There are a whole lot of photo booth owners out there and that number keeps growing.  I believe this is one of the best small businesses one could own.  I believe it so much, that I sell photo booths to people who are just getting started, or to photo booth owners looking for another booth to add to their fleet.
Even with the growing number of photo booth owners, I still believe that there are enough events for everyone.
We hope these tips help you plan your next event! Have another reason photo booths create fun at any event? Leave us a comment below!  If you need photo booth folders to hold your event photography, we'd love to create them!  Browse our custom photo folders online or give the Studio Style team a call at 1-800-346-3063.