Make money doing what you love by selling greeting cards of your photography.
Taking photos of nature and wildlife is a passion for many lovers of the great outdoors. Nature photographers spend hours outside at parks composing beautifully proportioned images of landscapes or the vivid and crisply detailed macro shot of a single flower. Some are fortunate enough to work for National Geographic or have thriving careers in the photography industry. For many others photography is a hobby. How do you take your hobby to the next level and make an income stream from it? An easy way to get started is by selling photo cards. It's easier than you think, and we'll show you how.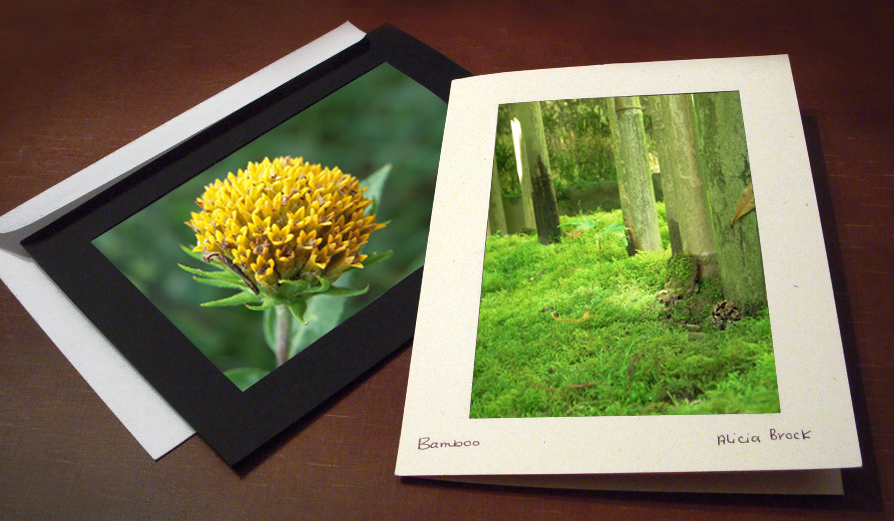 How To Make Nature Photo Cards
Select Your Best Photos & Make Prints – Take inventory of your photo collection and narrow it down to just a few of your strongest images. Make prints (usually 4″ x 6″) of these photos.
Assemble The Cards – With pocket-style photo insert cards, the front cover has a window opening to slide your photo in. This makes it easy to create instant photo greeting cards, and if you change your mind, you can remove the photo without damaging the image or card.
Add Your Personal Touch – Don't forget to include your name, web address, and the title of your photo and location. Some photographers like to handwrite this on the window border or back of the card, some create printed labels to stick on the back, while others choose to have us foil stamp their cards for a truly professional look.
Consider Product Packaging – While not necessary, it is a good idea to insert your cards into a clear cellophane sleeve to protect it from fingerprints and moisture.
Where To Sell Your Nature Photo Cards
Parks & Forests – A great place to sell photo cards is within gift shops at parks and tourist areas. Many larger parks and wildlife areas have gift shops on site to sell souvenir pins, walking stick medallions, iron-on patches, ornaments, commemorative pins, and other souvenir items. Greeting cards of photographs taken at the park are the perfect compliment to these other items! Visitors love to take home visual reminders of places they've been.
Local History Museums – An often overlooked place is your local history museum. People visit museums to learn more about specific regions, so selling cards featuring photos of that area is a natural fit.
Tourist Areas – There is great opportunity to sell your photographs to tourists visiting your area. Take photos of the natural surroundings in town, perhaps even expand into local architecture & landmark photography. We've seen photo cards at coffee houses, fudge shops, ice cream parlors, flower shops, apple and pumpkin farms, and general gift shops. Photo cards also do great when merchandised at the front counter of locally owned restaurants that require you to pay at the cash register.
Farmer's Markets – Setting up a booth in a farmer's market is a great way to meet new people, sell your cards and get fresh air all at the same time. If running your own booth is too much work or money, see if another vendor would be willing to partner with you. For instance, selling cards at a booth that also sells fresh cut flowers or handmade gifts is a smart idea.
Art Fairs – If you are already selling larger prints, why not offer some smaller gifts as well? Your photo cards are at a price point that most art fair goers will gladly pay for. Be sure to include your studio logo and website info to lead them back to your online shop for your larger prints.
Food Co-ops – While it might seem an unlikely place, it's worth checking into your local food cooperative. While some are strictly member-only, stores that are open to the public often sell work from local artists and photographers.
Etsy.com – Etsy offers photographers a place to easily sell their photo cards and reach a wide audience. Try setting up your own Etsy shop and promote it with your blog, website, or Facebook page.
Other Tips
Display Your Goods – For offline (in-store) sales, in most cases you'll be responsible for your own card display. This can be as simple as a basket filled with your cards or a wire greeting card display rack.
Welcome & Inform With Signage – Try creating a sign with the name of your photography business, price and a short bio. Make it personable by including a photo of yourself. Any little bit of information can help make a connection between you & the customer. If selling to a local market or if your work has been acknowledged, make that a selling point. Example: "Martha Williamson – Award Winning Local Photographer"
Take Photos of Your Cards – For selling online, you'll need crisp and attractive photos of your cards. Set aside an afternoon to do a product photo shoot. Optimize your images in Photoshop using the "Save for web" feature to create quick-loading optimized images.
Determine Your Selling Price – Do other photographers in your area also sell cards? Do some research and find out what they are charging and price yours accordingly. Generally speaking, you can easily sell cards in most markets at a price point between $4-$6 per card. Buying your insert frame cards and prints in bulk can help cut costs and keep more money in your pocket.
Think Seasonal – In most parts of the world, nature changes with each season. Varying your photo card selection by season will keep your work fresh and current. Don't forget the time of year people send the most cards – Christmas! Create seasonal winter and holiday theme cards and make these available starting in early November.
Be Patient & Positive – Like with any new adventure, results can take time. Don't become frustrated if your cards don't sell right away, give it time. If your cards still are not selling, evaluate your photo choices, selling location and marketing efforts. Make adjustments and keep a positive attitude!
Selling photo art greeting cards is a great way to make extra money, express your creativity and gain exposure of your photography.
Related: Don't forget that June 15th is Nature Photography Day!
Do you have any photo card selling tips or ideas? Feel free to share your experience in the comments below!
3 Comments