Helping you make the most of your Santa photo events with custom paper picture frames.
The Christmas season seems to start earlier each year. Love it or hate it, Christmas is a part of our culture and a holiday that many people look forward to. Every November Santa begins making his appearance at malls, stores, town squares, tree lighting ceremonies, and holiday parties. He even shows up at restaurants for special "Breakfast with Santa" events which attracts the whole family for a morning of food and festivities.
All of these Santa events share one thing in common: photos.
It is no surprise that many people make it a family tradition to visit Mr. Claus and his elves for their holiday picture. His image is iconic, and having that special photo of the kids on Santa's lap is priceless.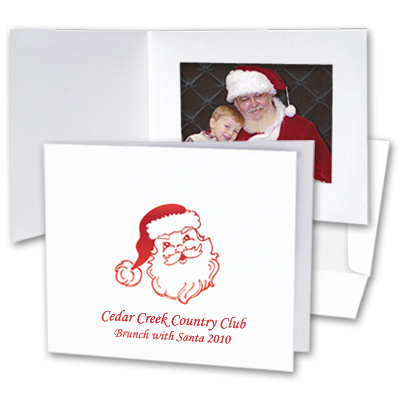 These events draw hundreds, even thousands of people to businesses Nationwide, making this an excellent opportunity to connect with customers during the holiday season.
Some businesses offer the holiday photos as a complimentary service to their customers. Other venues may charge for a printed photo, often times donating the proceeds to a local food pantry or charity in the spirit of the season. In fact, photos with Santa have become a popular fundraiser activity for many organizations.
Either way, presenting the photographs in an inexpensive paper or cardboard photo frame not only protects the photos from fingerprints & damage, but it's also a great way to market your business or event.
There are three main styles of card stock photo holders: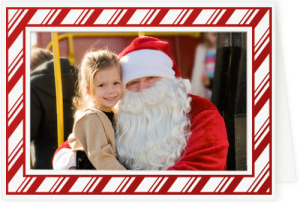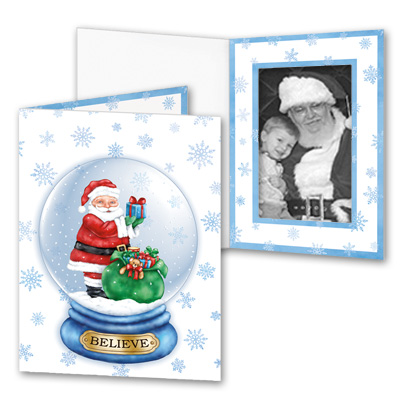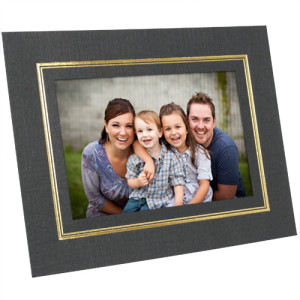 Sliding an event photo into a paper frame or folder creates an instant photo souvenir!  With your logo or event name on it, this photo holder also becomes a reminder of your business or event. What a great promotional product giveaway for the holiday season!
We've created custom printed and imprinted Santa frames and folders for malls, stand-alone stores, community festivals, restaurants, fundraisers, schools, company events & holiday events both big and small. Call or write us today to learn how you can create a customized frame for your holiday event.
To get you started, here are a few of our most popular stock frames, available as shown or add your logo or personalization!
Don't forget, we can also create something totally custom just for you. Call our customer service team at 1-800-346-3063 or chat with us online. We look forward to creating your Santa photo folders, and hope that you have a fantastic Visit with Santa event this year!
1 Comment