In a rush? No time for custom imprinting? Print your own custom labels for instant folder personalization.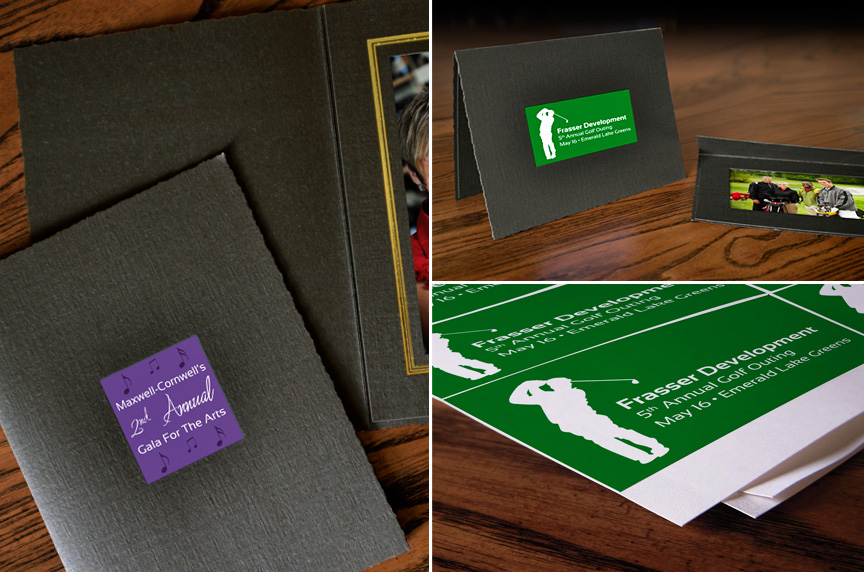 Did your event sneak up on you? No time for custom photo event folders? What's an event planner to do?!?! We have the answer: custom labels.
While our professional foil imprinting services are by far the best complement to our folders, we understand that sometimes you need folders in a hurry. When photographers and event planners come to us with a last-minute project, foil imprinting is usually no longer an option. In these cases, we suggest ordering our blank portrait folders or standard event photo folders. Then print off some labels at home or at the office, stick them on the cover, et voilá! Personalized photo folder frames, just in time for your event.
Although we do not sell self-adhesive labels, they can be purchased at any store that sells office supplies. Print your logo, artwork, or event name onto the labels according to package instructions, then just peel and stick your custom labels to our portrait folders. While it might not have the same classy look as a foil stamped portrait folder, it gets the job done. In the end, a custom photo folder is about event or company branding.
Custom labels work with any of our blank photo folders, including our portrait folders and economy photo folders. Not sure what you want? Browse all photo folders. While printing your own custom labels is no substitute for the beauty of foil hot-stamped imprinting, it is an easy personalization solution when faced with a tight event deadline.
But hey, there's always next year! Our standard production time on custom imprinted photo presentation folders is generally 7-10 business days. Please allow a few days for proofing your artwork or design, plus time for shipping. We see many customers begin the ordering process a month before their event. We usually start making custom Christmas foil stamped photo folders before Halloween!
With a little creativity (and a lot of peeling and sticking), custom labels really can turn a blank photo folder into a one-of-a-kind branded photo souvenir.
Leave a Comment