Fall is a sensational time for hosting a gathering for friends and family. The changing leaves and crisp weather can inspire fantastic menus like butternut squash ravioli, roasted sweet potatoes, cranberry spinach walnut salad, and pumpkin pie. All that time cleaning house and planning the menu, it's important not to forget your table-scape. Creating a warm and welcoming dinner table for your fall parties is simple. Choose linens in autumnal colors, think rust, goldenrod, browns and greens. For a rustic seasonal feel, fill a bowl with apples, mini pumpkins, and gourds in all shapes and sizes. Lighting is important and when chosen properly, will really make your dinner shine. For an outdoor dinner, try draping cafe string lights over branches in a tree or on a pergola. Inside, candles will add warmth to your table. White candles are a classic choice, while colored candles can coordinate with your decorating efforts. As delicious as some candle fragrances smell, stick to unscented. The added fragrance of the scented kind can interfere with your own delicious smells coming from the kitchen. Not to mention that some guests may have sensitive allergies.
Autumn Dinner Party Favor Idea: Flower Bulbs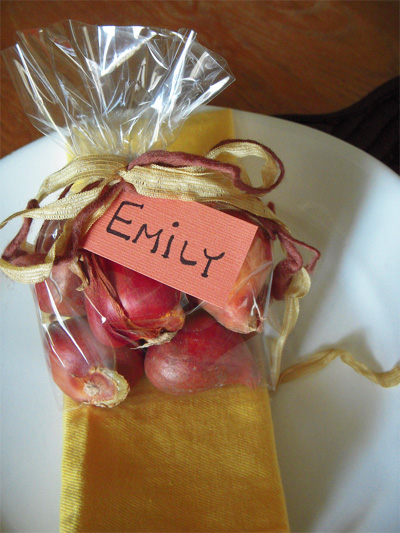 Create a simple yet special party favor for your dinner guests to take home at your next fall get together. Since now is the time to plant bulbs in the ground for spring blooming, a goodie bag of flower bulbs is an excellent choice for an autumn dinner party favor.
This works especially well for outdoor or garden-themed parties, but is a fresh choice for any fall gathering. Dinner party favors do not have to be fussy or costly. The best favors are ones that are simple and thoughtful. Wrap a handful of flower bulbs (tulips, daffodils, hyacinths, crocus and allium are popular choices) in a clear cello bag, swatch of fabric or burlap. Tie off with raffia, twine or pretty fall-colored ribbon.
To further personalize each favor, write each guests' name on a tag. A simple colorful piece of scrapbook paper with a handwritten name or message works great and makes the gift personalized. You may also consider writing planting instructions on the back of the tag. Be sure to include the type of flower and it's color, planting depth & spacing, as well as what month to plant.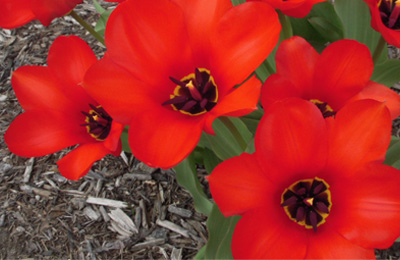 Spring Blooming Bulb Planting Chart
Zones 2-3 – Plant in September

Zones 4-5 – Plant in October

Zones 6-7 – Plant in November

Zone 8 – Plant in December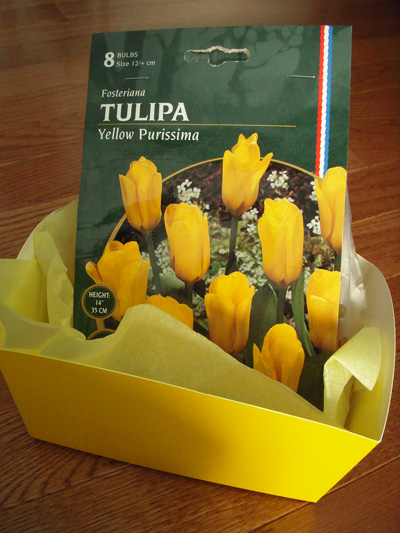 Presenting your guests with a dinner party favor is a kind gesture and will sure to provide a fond memory next spring when the flowers bloom!
1 Comment