Ideas and tips for your Easter Bunny Event from Studio Style
Thinking of having a picture with the Easter Bunny Event this year? Seasonal events are a great way to connect with the community and bring people into your business, raise awareness for a cause and create goodwill in the community. However, a great event comes from great planning. This article will help you plan and organize a successful event this Easter season.
The Bunny

This is a given! Make sure that the Easter Bunny can attend your event and pose for pictures with the kids. The Easter Bunny is very busy this time of year, so make sure to plan ahead! Many entertainment companies (think clown & magician businesses) have a bunny that can pose for pictures, walk around and work the crowd, pass out candy, entertain or even perform magic and other tricks. Don't forget you could always buy or rent a bunny costume.
If the "real" bunny is unavailable, and a costume is out of your budget, try a jumbo inflatable bunny or giant plush rabbit. Cardboard cutouts can also work!
The Venue
Most malls host their own annual Easter Bunny events, but there are a lot of other great places to have an event. Have the Easter bunny visit your store, anywhere from small boutiques to large grocery store chains. How about a breakfast (or brunch) with the Easter Bunny at a restaurant or country club? A spring festival, parade or egg hunt? How about inviting the Easter Bunny to a local 5k race or other sporting event?  Try hosting a "Take your pet's photo with the Easter Bunny" event at a pet store, animal shelter, grooming salon or dog rescue. Children's hospitals are a great place to have the Easter Bunny stop in for photos and a visit. The zoo is also a great location and your guests will spend the whole day there. Your local Park District or Chamber of Commerce almost always have events planned around the Easter holiday. We've even seen Easter events on trains and cruise ships!
There are a lot of opportunities for Easter picture events that go beyond the mall.
The Right Props

The most basic prop you'll need is a sturdy place for the Easter Bunny and visitors to sit. Wicker chairs or benches are the most popular type of seating for Easter Bunny photos. White is a classic choice, but natural wood or black are more modern choices that are becoming popular.
For an indoor event (such as a mall or restaurant) a backdrop is needed to block out any distractions like store fronts or people walking by.
Outdoor events (like a community event at the park) do not need artificial backdrops. Use the outdoors to your advantage and pick a photo location that has trees, shrubs or flowers in the background. In an urban area (or an area that does not have a lot of greenery this time of year) try setting the scene against the brick wall of a building or other element that will make an interesting background.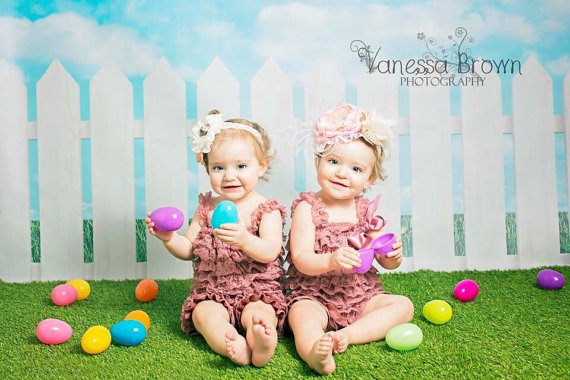 While a chair and background are the two primary elements of an Easter photo shoot, there are lots of other props you can use. Try one or several of the following:
Oversized Easter Basket Filled With Eggs
Gazebo or Garden Arch (you can find them at a local wedding rental company)
Artificial or Real Floral Garland
Easter Banners or Flags
Inflatable Easter Eggs or Carrots
Potted Tulips, Daffodils or Other Spring Bulbs
Forsythia or Pussywillow Branches
Chalkboard With The Words "Happy Easter!" or "Easter Greetings!"
White Picket Fence
Make a trip to your local craft and party stores and see what is available. Check out Etsy.com for creative handmade props like this white fence backdrop. Look to nature and visit a local garden center or florist, or even your own backyard for branches and flowers to use at your event. Party rental supply companies and even the home improvement store have options for larger props, tables, and seating. With a little creativity you can even make your own unique spring and Easter themed accessories.
The Photographer
Book a photographer in advance to ensure that you'll have someone taking pictures on the day of your event. Take in consideration the photographer's background. A photographer that specializes in event photography or kids and families is going to be more qualified than someone who shoots wildlife photography.
The Giveaways
Give your guests something to remember their visit by. The most obvious giveaway would be a photo. Due to the nature of these events, the ability to print photos on site is necessary. If you do not have access to a on site printer, then using an instant camera is an old fashioned alternative that is still used quite often. Your budget and equipment will dictate this decision.
You'll want to have a cheap paper picture frame to transport the photo home in. An Easter photo folder or cardboard photo frame will protect the photo from becoming bent or damaged.
Most paper frames can be custom printed with your logo, event name or other information specifically for you. This turns a simple photo souvenir frame into a promotional marketing piece! It's a great way to have people remember your company or event.
Sometimes the event photographer will supply the frames at an additional cost. Other times the event coordinator or staff will order them. Communicate and see who will be ordering the photo holders and make sure you'll have enough for your event, in the correct size you'll need. Easter picture holders are most commonly available for Polaroid and 4″ x 6″ pictures, but custom ones can be made for other sizes.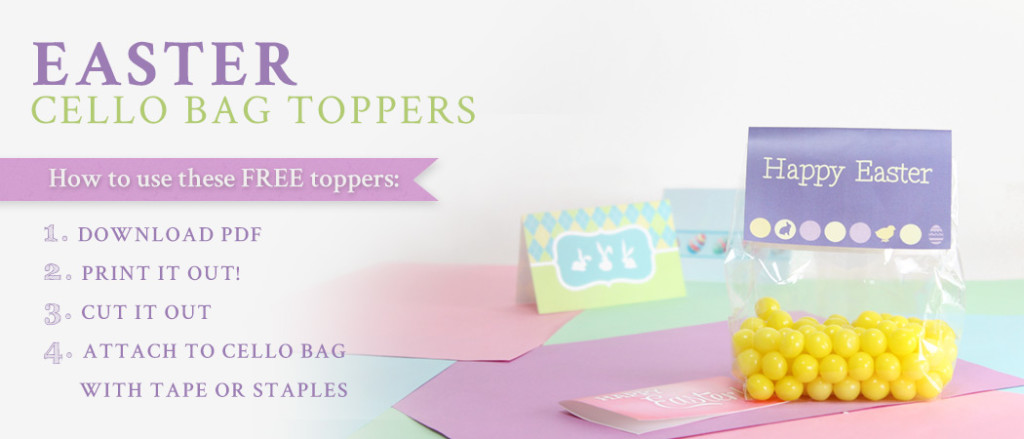 Some other great souvenir ideas would be coloring pages with crayons, fuzzy bunny ears, candy, snacks or stickers. Including a coupon for your business, or a related business, is a great incentive for repeat business. If you're handing out treat bags, you can use our Free Printable Easter Treat Bag Toppers!
The Promotion
Advertise! Make sure the public knows about your event. Flyers, blog posts, Facebook updates & Twitter are all great ways to get your message out about your event.
Try tying a promotion in with your event. If you are a restaurant, offer a special dining offer (like a unique Easter theme menu). If you are a store, offer a discount (try 20%) for that day only. Adding an extra incentive will get more people in your door and excited about the event. Take a look at these real-time Easter Bunny Event examples from Twitter:
Tweets about easter bunny event

Another option would be to donate all, or a portion of the proceeds from your event to a charity. Give people a REASON to participate in your event that they will feel good about. This also provides an option for cross-promotion with the charity, which can boost your event exposure and your audience, as well as opening other advertising channels and media coverage.
With the right planning, a Visit with the Easter Bunny event can become a fun yearly tradition that will build awareness, bring profit and be a positive spring activity for your community.
Leave a Comment