Mailable vacation bible school follow-up photo frames are a valuable outreach tool.
Looking for an idea to connect with families after vacation bible school (VBS) ends? Paper and cardboard photo frames are a fun and effective outreach tool. Take individual photos of the kids participating in crafts and activities, or take a group shot of the entire class. After VBS or church camp ends, mail each child a souvenir photo frame with their picture inside!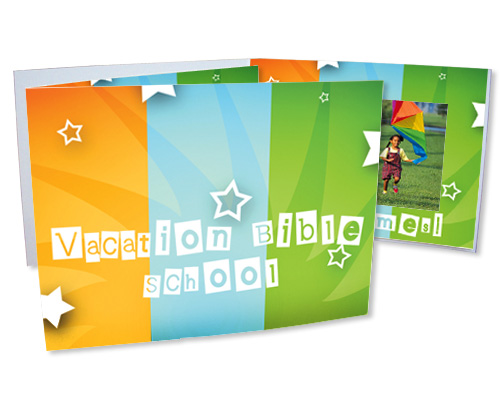 Photo frame mailers can be foil imprinted (hot stamped) or printed with your church name, or use a stamp or sticker to personalize them yourself! Add additional text to thank the child for coming and to invite the family to come back. Suggested text would be "Look at how much fun you had at VBS!", "Glad you came, we hope that you and your family will be back for more fun activities!" or include info on upcoming programs.
Sending VBS follow-up frames as a gift shows your appreciation for the child's enrollment, and at the same time reaches out to the family. Photo keepsakes are often hung on a refrigerator door or propped up on a desk, and serve as a constant reminder of your church and how much fun they had.
Custom photo folders are available for 4″ x 6″ and 5″ x 7″ photographs. We offer both Photoshop and Illustrator templates that you can download and lay out your own art, or send us a JPG or PDF to work with.
If you are looking for a pre-designed folder or a different size, we have those too! Some of our pre-designed folders include both a Western theme and Hawaiian Luau theme. We print custom folders for customers everyday and are experts at what we do! Give us a call to talk about creating cardboard or paper picture frames for your VBS or other church event.
Leave a Comment