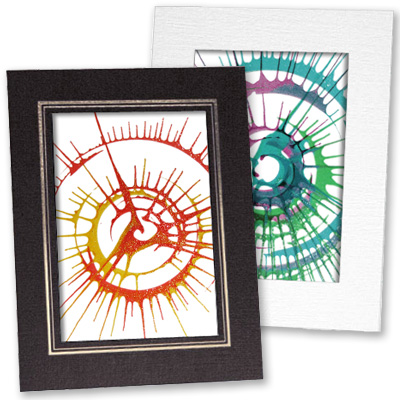 Looking for a fun activity and party favor rolled into one for your next kids art party? Have the kids make their own spin art! Frame the masterpieces with 5×7 photo frames from Studio Style, allow to dry, and send kids home with a fun and funky craft they'll love to show off.
Spin art is a popular activity at carnivals, birthday parties, school fun fairs, summer camp, festivals, and events. Also called twirl art, spin art machines can be rented at carnival and party rental supply companies.
How it works: Paint (and sometimes glitter) is squeezed or dripped onto a paper card that is attached to a spinning platform creating an abstract piece of art. For decades, spin art has been a carnival staple because it is a fun and interactive arts and crafts activity that results in an instant novelty souvenir that can be taken home. It is also a proven money maker at fundraising events.
Most spin art cards measure 5″ x 7″, which fit nicely into one of our 5″ x 7″ cardboard or paper photo frames. Our art card holders and frames can also be personalized with your event name or logo!
Leave a Comment