Printed photo cards have been on a perpetual rise in popularity over the last 10 years, especially for Holiday greeting cards. They are great for sending out as party invitations, thank you cards, and as Christmas cards. Yet photo insert cards also remain a popular choice, and many opt for this classic photo card option year after year. Why?
Because blank photo insert cards are so versatile.
At Studiostyle.com, our photo frame cards are available in a variety of colors and are full-color throughout. Suitable for DIY Christmas and holiday cards, thank you cards, engagement announcements, birth announcements, graduation photos and more, you can buy one color of card and use it for various occasions throughout the year.
Ready to make your own greeting cards? Here are some ideas to get you started:
Personalized Christmas Cards
What do you do when you want to send one photo to your grandma, another to your uncle, and yet another to a friend who lives half a world away? With printed photo cards, you're stuck with the same photo for everyone- -so blank cards for photographs are the perfect solution. Just insert your photo of choice in the front for the chosen recipient, write a nice greeting inside, and voilà, instant photo greeting cards!

 Shown: Red Photo Insert Card, Snow White Photo Insert Card, and Forest Green Photo Insert Card
Studio Style also offers a great selection of holiday themed photo cards if you're looking for something more festive:

Shown: Let it Snow Photo Insert Card, Holly Corners Photo Insert Card, Black Holly Border Photo Insert Card, Candy Cane Photo Insert Card,
Wedding Thank You Cards
A photo card is the perfect way to thank guests for attending your wedding and to thank them for gifts. Just slip your photo in the front, and include a personalized, hand-written message inside. A white photo insert card is a classic option for thank you cards, but you can also choose a card that coordinates with your wedding colors.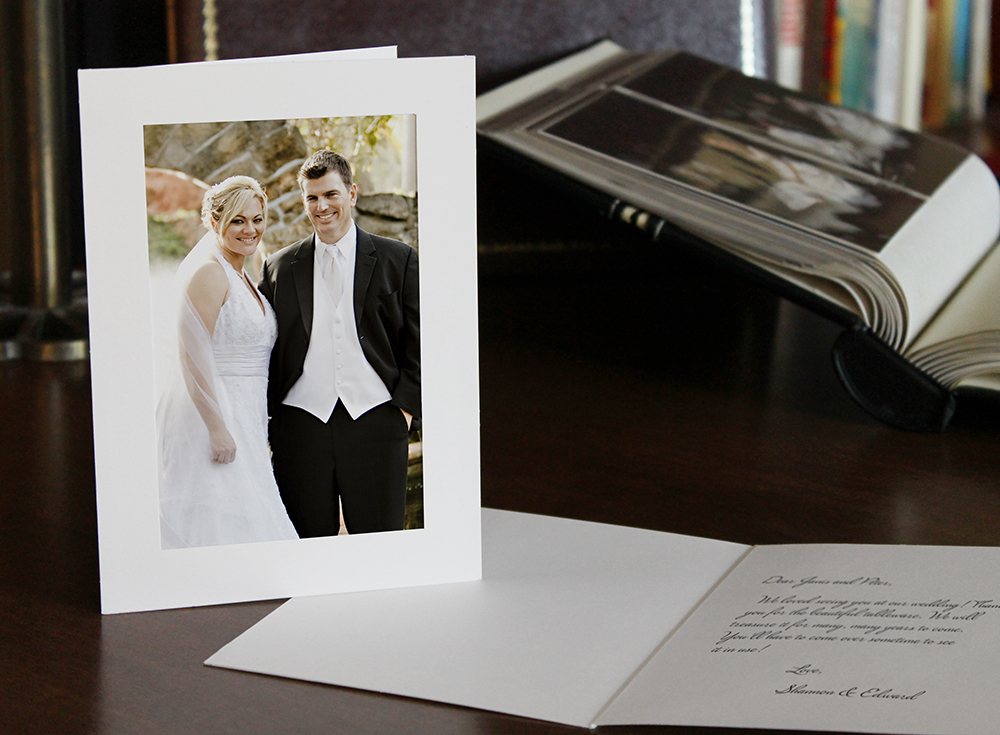 Engagement Announcements & Save the Dates
Most photographers include an engagement photo shoot in their package, or offer it as an add-on. Blank photo frame cards are perfect for engagement photos because the picture window showcases your photo without any distracting design elements. For wedding details, you can hand write the information inside, or we can foil stamp your text for you. Foil imprinted save the date photo cards are a classic, elegant option.

Shown: Desert Storm, Snow White, Black
Photo Birth Announcements
Do yourself a favor and order your blank cards for photos before the baby is born. After your precious bundle of joy arrives, you'll be spending so much time cooing to your babe and showing him/her off to visitors, that browsing for birth announcement designs might not cross your mind. By having blank birth announcement cards on hand ahead of time, you can just slip in your newborn photos and write out some quick notes to friends and family during nap time.

Shown: Cranberry Ice, Natural Flax, Light Blue
Everyday Photo Cards
Whether you bring home a new puppy, want to send warm wishes from your tropical paradise, or just want to say hello, blank greeting cards for photos are the perfect solution. Just insert your photo in the front, and write a message on the inside. Want to cheer up the grandparents? Slide a recent picture of your kids in the front, and let them doodle on the inside or cover the card with stickers.
Here are some other ways people use photo window cards:
Pet Photography: Adoption centers give these with a photo of your new best friend, and a brief message stamped on the inside.
Art & Craft Fairs: Not just for pictures! Insert small 4″ x 6″ art prints, pressed flowers, paintings, or even slim needlework.
A Long-Distance Hello: Perfect for sending photos to friends and family across the country, overseas, or even just on the other side of town.
Event Favors: Smaller than our standard event photo folders, we see event planners using photo insert cards for Bar/Bat Mitzvahs, Sweet Sixteens, retirement parties, and more.
Personalized Branded Photo Cards: Professional photographers will add their studio name and website with hot foil stamping on the back of the card. These are a nice add-on to any studio package.
Whatever the occasion, whenever the celebration, stock up on some blank photo greeting cards. You never know when you'll want to share a memory!

Shown: Navy Blue, Snow White, Red, Black, and Desert Storm
Leave a Comment