Grab your camera and capture the great outdoors on June 15th for Nature Photography Day.
Nature Photography Day first appeared in 2006 and has since become an annual celebration of nature photographers across the globe. According to PMA Newsline, the The North American Nature Photography Association (NANPA) designated June 15th as Nature Photography Day, a day to explore the natural world with your camera.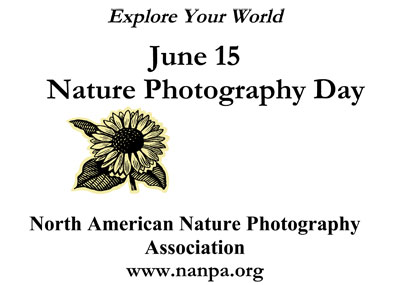 Learn
The National Wildlife Federation (NWF) has a great list of nature & wildlife photography tips which covers topics like insects, flowers, movement & night photo tips.
Explore
Discover nature on foot or by bicycle and set aside some time this June 15th to go on an exploratory hike or bike ride and stop to notice your surroundings. If you are stuck working all day, pack a lunch to-go and take a walk outside. Raining? Don't worry, bring an umbrella! Don't have a sitter for the kids? No problem, bring them along!
Share
Share your photographs with others! There is a public Flickr group where members can post photos that are taken on Nature Photography Day and time-stamped June 15.
If you are a member of the NANPA or thinking of becoming one, check out their Nature Photography Day event for members. Photos will be published in their newsletter Ripples and in an album on their Facebook page.
Inspire
Your photos inspire others. Use your photographs to encourage others to think about the affect that humans and development have on nature. Nature photography has the power to spark conservation efforts and rekindle an appreciation for our earth.
1 Comment