Hot Foil Stamping is one of our favorite personalization techniques at Studio Style. Great for holiday events, weddings, fundraisers, galas, school dances, prom, graduation, golf events, company parties, and any special celebration– this takes a plain paper folder and turns it into an upscale keepsake. The shimmering embellishment brings a truly elegant look to your custom photo folders, photo cards, and paper photo frames. Here's an overview of the Studio Style foil stamping process, and some of our photo products that look beautiful when customized with a decorative foil imprint.
The foil stamping process
1. Choose the folder or frame product you'd like to personalize. Almost all of our products can be foil stamped! We have horizontal and vertical styles available for all of our products. Type in your desired quantity, and click the teal Personalize button. On our imprint form, you can type in any text you want to be included, choose your foil color, imprint location, and upload your logo or artwork.
2. Please check our artwork guidelines for our accepted file formats, and file size. For a great foil imprint, we need a crisp, clean, black and white image. Your artwork can be a graphic, a logo, typographic lettering, just text, or a combination of these elements. Artwork should not contain fine lines, gradients, drop shadows, or textures as these will not produce a desirable result for foil stamping. (If you cannot supply us with satisfactory art, our experienced art department can help. Art charges may apply – feel free to call our customer service team at 800-346-3063 with any questions.)
File formats we accept: PDF, AI, EPS, PSD, JPG, JPEG, TIF, TIFF, and PNG file formats. As a general rule, we require a minimum of 300 dpi for foil stamping
3. Next, submit your order. Our team will review the art and we'll contact you if we need any further information. We'll prepare a free proof if you requested one, and will send it your way within 1-2 business days for approval. Let us know ASAP if your proof looks ready to go, or if you need changes. Once your layout is finalized and approved, we'll move into production.
4. Your image or artwork is now etched onto a magnesium foil stamping plate (also known as a metal die). New imprinting orders are charged a new plate and machine set-up fee. Foil stamping plates are kept on file for one calendar year. If your order is repeated within a one-year time frame, the next order will only be charged the machine set-up fee, as we are able to re-use your original plate.
5. Finally, we take our blank product, your magnesium plate, and a large roll of your chosen foil to our specialized foil stamping press. The foil film is unrolled and sandwiched between the magnesium plate (which has been heated to an appropriate temperature) and the blank photo folder, frame, or card. The plate and product are then pressed together. Through heat and pressure, the thin layer of foil is transferred off the roll and onto the product.
A Few More Foil Stamping Tips
Please allow 7-10 business days for production time on custom foil-stamped photo products. Often, we can turn them around sooner than that, but we want to ensure that we have enough lead time to do a great job and get them shipped to you well before your event day.
Your first order will incur a plate and setup charge (to make your custom plate, and set up the machine). You'll also have a small running charge for each piece ordered.
Have an annual event? Leave off the date and order extra product for next year! We keep your custom plate on file for one calendar year, after which it is recycled. If you place a repeat order with us, we can re-use your original plate, and you won't be charged a plate fee the second time around.
We do offer several ready-made foil stamped photo folder designs, so if you don't have enough time to personalize a custom folder, we can ship out a pre-made design right away. Just look for the "quick ship" emblem in red on our products page. We have these ready to go for most major holidays and for golf events.
Want multiple foil colors? We can do that! For an extra charge, we can create your frames, photo cards, or folders with two foil colors.
If you need an exact PMS color match for your art, we'll move you to an ink-printed photo folder instead of foil
A few of our favorite paper frames, folders, and photo cards shown with hot foil stamping: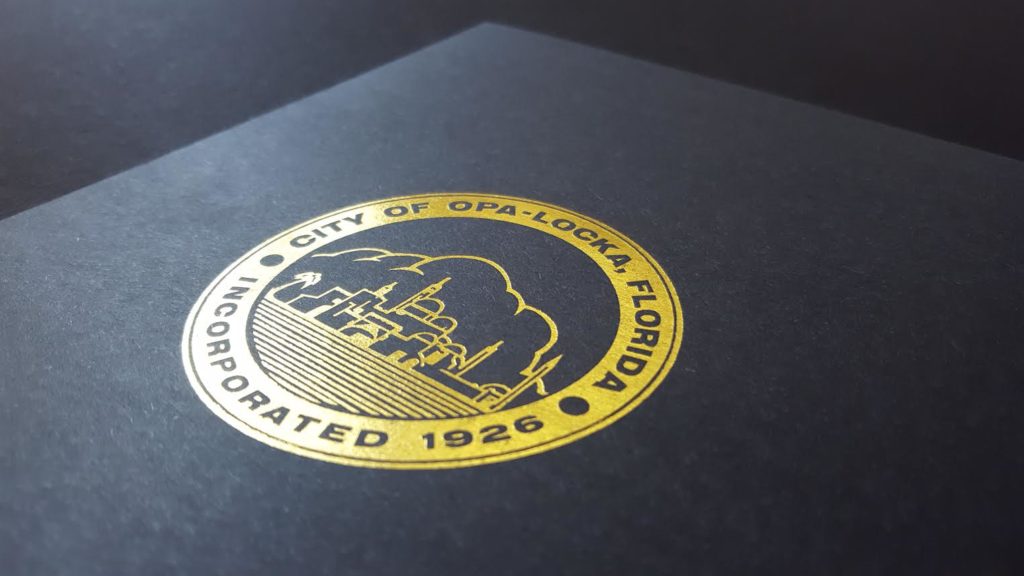 Leave a Comment