With the family together, Thanksgiving is the perfect day to cross "take family holiday photo" off your holiday to-do list!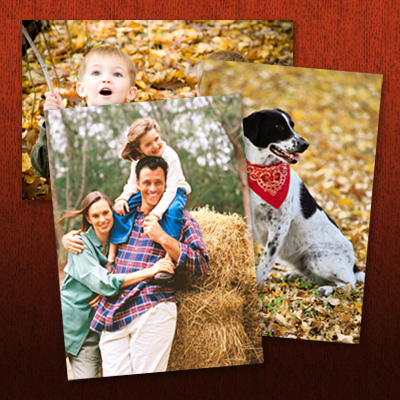 Once we turn the calendar to December, much of our free time is spent Christmas shopping, wrapping presents, decorating, and baking cookies for those countless cookie swaps. Don't forget all of the holiday party obligations and white elephant gift exchanges! With the flurry of activity in the month of December, it is no surprise that many families make Thanksgiving their annual family photo day.
How to Make Thanksgiving your Annual Family Photo Day
Do your own photo shoot (indoors or out) with an inexpensive tripod if you wish to also be in the picture. If you'd rather leave this task to a professional, book an appointment with a photographer for sometime at the end of November. Many photographers will come to your home or an outdoor setting (like a park) making your photos a personal reflection of your family's style. If you like the polished look of studio style photography, go to a portrait studio where they have manyoptions for backdrops & seasonal props.
Here are 5 Quick Tips for the Perfect Christmas Card Photo
1. Be you. Sound simple? It can be, but when the camera is ready, some people will freeze up. To get around this, ask a friend or extended family member to quietly snap some candid photos while you and your family are playing in the leaves, telling stories, or even baking cookies.
2. Don't match outfits too closely. Don't put everyone in a solid navy blue shirt with khakis. Instead, give a color palette as inspiration. That way, a solid navy blue top will go nicely with a wine-colored plaid top and a mustard sweater.
3. Include the family dog or cat. Sometimes having an animal in the photo will make everyone more at ease. It can also make for some really cute images!
4. Don't photograph yourself. Not feeling photogenic? Photograph something that your family holds near and dear to their hearts. Maybe it's the family farm, a picture of some of your kid's artwork, or maybe just the cat, dog, or even goldfish. Remember, with family Christmas cards, it really is the thought behind it.
5. Make it generational. Your extended family will love seeing the family lineage, from the oldest member to the youngest. It is sure to evoke fond memories, and it's a great gift to give the youngest members of your family.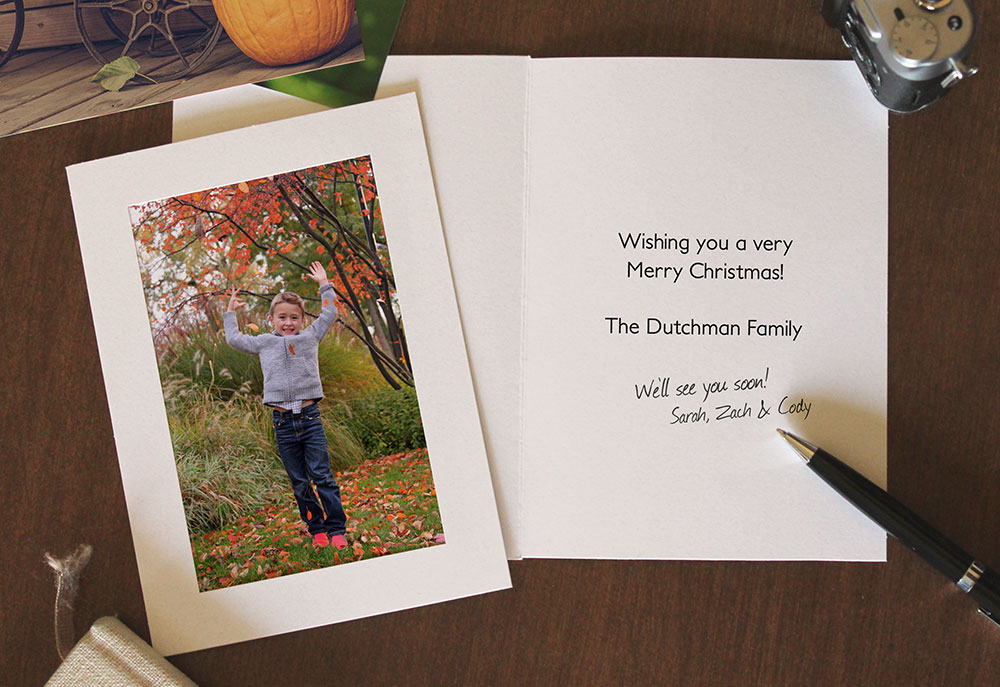 Turn That Family Photo into a Christmas Photo Card
Once you have the perfect picture, why not use it as your Christmas card? Personalized photo greeting cards are becoming increasingly popular because they are affordable and easy to create. Simply make prints at a photo processing center and slide those photos into paper frame cards. Or choose printed Christmas photo cards if you don't feel like printing the photos. Whichever method you choose, Christmas greeting cards made from your fun Thanksgiving family photo day are a creative and personal choice this holiday season.
So go on, go out and take that perfect (or imperfect!) family photo this Thanksgiving. You'll have fun taking it, and the memories you make are sure to last a long time.
Product featured in this post: Natural Flax Photo Insert Card
Leave a Comment