Hosting a golf tournament takes a lot of work, but with proper planning, it can be a rewarding fundraiser and promotional opportunity for your charity or organization.  It's important to keep in mind that the success of this year's golf outing can impact whether golfers and their guests return again for next year's event. You'll want to make sure they are engaged, leave with some great memories, and of course, some great prizes too. Studio Style is here to help make your golf event successful and memorable with these ideas for golf tournament giveaways.
Smile! Golf Tournament Photos Make it Memorable
What better way to help guests remember your event, than with a photo? Hire a local event photographer to take both candid and posed pictures at your golf outing. Print the photos on-site so that guests can take them home the same day. Include your branding and golf event info on photo holders for a personalized souvenir. Let guests know that you'll also put the photos up online soon after the event, and how they can access the album. This creates a lasting connection between your guests and your organization, and allows for sharing of the images on social media, resulting in further engagement with your brand beyond the event day.
Pro Tip: Free photo hosting platforms like Facebook, Google Photos, Dropbox, Flickr, and SmugMug allow you to easily upload and share your event photos with others.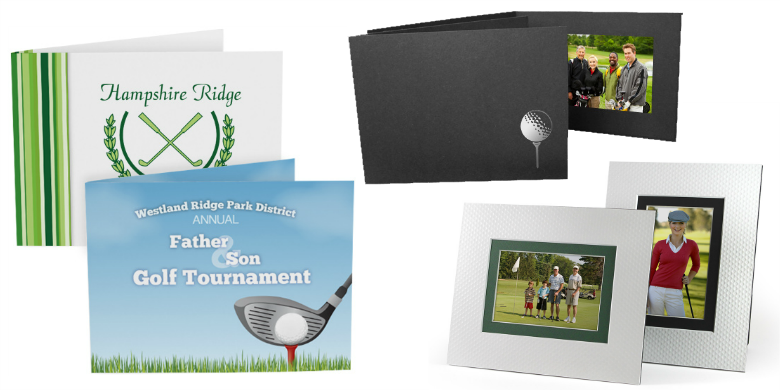 Golf outing photo ops:
At check-in: Set up a photo station with a backdrop that matches theme of your outing, and ask guests to strike a pose as soon as they're checked in. Include a few themed props for some extra fun photos. Taking your guests' photos when they arrive is ideal, especially if you're expecting hot weather. Golfers may be less inclined to pose for a photo op later in the day, after a they've spent several hours golfing in the sun. This also gives you time to get the photos printed before they leave.
Pro Tip: A branded photo backdrop can be a great opportunity to sell sponsors, with logo exposure in all event photos.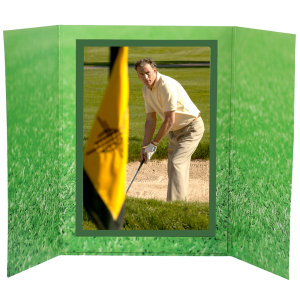 Action shots: Guests will appreciate seeing some action shots from out on the green, too. Have your photographer (or volunteers) capture photos of foursomes and individual golfers during the tournament. Take a selection of candid and posed shots for good variety.
With a celebrity: If you'll have a keynote speaker, or even a golf pro, ask them to pose with golfers. Even having the town mayor attend can add prestige to your event, and create a lasting impression for your guests. If a celebrity is out of your budget, try a cardboard cut-out! It will give event attendees something to laugh about.
Rent a photo booth: In between golfing and dinner, allow guests to entertain themselves with a photo booth! Many photo booth rental packages come with a selection props for guests to pose with. If you're on a tight budget, a DIY photo booth may be a better fit.
Golf Goodie Bags
Custom golf photo holders and paper frames are affordable, personalized giveaways to send home with attendees. These golf themed photo folders and frames can be printed with your event name, date, and even sponsor info, and included in golf goodie bags. Snacks, golf balls, tees and discount coupons from sponsors can also go in your goodie bags. Include a flyer or postcard with info about your charity or organization, a list of your upcoming events, and a nice thank you note showing appreciation for your guests' participation. Remember to order your photo holders and golf giveaway items at least 1 month ahead of your event date!
Pro tip: Event sponsors can help offset the cost of prizes and promotional materials. Ask sponsors if they'd like to provide branded giveaways like water bottles, imprinted golf balls, bag tags, towels, or ball markers that sport their logo.
Prizes & Awards for Golfers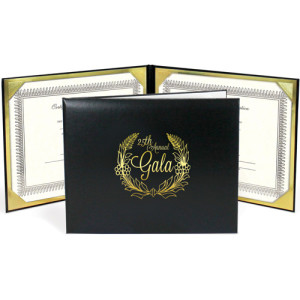 Give out tournament prizes and awards during your lunch or dinner break, or near the end of the event. Trophies, printed award certificates and giveaways add prestige to your golf event or fundraiser. Golf prizes like a putter, cart bag, or gift card to the local pro shop are great for "closest to the hole" and "longest drive" contests, but also try to think beyond what the players and golf enthusiasts would enjoy. Plan some prizes that can be appreciated by their spouses and co-workers, too. For instance, offer a catered lunch for the office from a local eatery, or a gift certificate for an evening of entertainment at a comedy club or theater. This increases the chance that they'll return next year, and that they'll bring friends along to share the experience.
Don't forget about your volunteers! Recognize your tournament planning committee with a special thank you gift. Certificate frames and award folders are a personalized touch for those who worked hard to help you organize a successful golf event.
Pro Tip: Hold a raffle at your tournament to boost your fundraising efforts, and send more guests home with winnings.
Great Prizes Generate Buzz
As you organize your tournament, start promoting your prizes well in advance (2-3 months is ideal). Stir up excitement and list any big ticket items on your website and social media channels, with photos. Ask your fans to share and comment on which prizes they like best. (This also helps you gauge interest for planning next year's prizes). If you've secured a sponsor who's contributing a buzz-worthy prize, talk it up in your pre-event advertising.  Submit a press release to local media outlets for some bonus coverage on your tournament. Get tournament sponsors to cross promote their contribution and involvement with the event for increased exposure.
Have a question about ordering golf gifts and award frames for your tournament or golf fundraiser? The Studio Style customer service team is here to help! We'll make sure you receive exactly what you envision for your golf outing. Call us at 1-800-346-3063 or visit www.studiostyle.com to chat with us live!
Leave a Comment