Want to print your event photos on the go? The new Fuji Instax SHARE Printer lets you instantly transfer photos from your smartphone via Bluetooth so you can print them out on the spot! We love this idea for birthday party favors, photo ops at fundraisers, photo booth prints at summer fairs and festivals, sports games, animal adoption events, holiday photos with Santa or the Easter Bunny, Halloween costume party photos, or capturing memories any special event.
The SP-2 model features high-speed printing in 10 seconds, producing high-quality, high-resolution images with print pixels of 800×600 dots, at 320dpi. You can download Fujifilm's free Instax SHARE app which lets you print and share your smartphone or tablet images with ease. Then, you can frame your Instax Mini prints in our Instax Mini Photo Frames! These sturdy cardstock frames accommodate Fujifilm Instax Mini Film.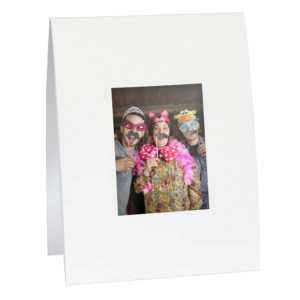 We even have plain white Instax Mini frames that are great for coloring on, or decorating with stickers! This can be a fun activity for the kids at any event.
We've got some brand new frame designs, or you can customize your own. Foil stamped personalization on these Instax Mini frames is optional for an additional charge. We can imprint your logo, event name, and date in any of our foil colors on the sturdy cardstock frames.
Click here to browse all of the Fuji Instax Mini Photo Frames available at Studiostyle.com.
Leave a Comment